one question...

what´s the diffrence between fog and spot lights?

I bought two used white spotlights on ebay germany for about 20 or 30 Euros...
Are they so rare? oO

Greetz
Membre GE

Messages: 5
Inscription: 27 Sep 2009, 14:29
---
Fog lamps are for fog, and spot lamps are high beam lamps. In the bumper, the lamps are not all the same, there are two pairs: one pair of fog lamps which is on the outside and a pair of spot lamps which are on the inside (when you look from the front).
Rejoignez notre association et bénéficiez d'avantages sur les pièces détachées - Join us and enjoy great deals on any part you want!

ADHÉRENT

Messages: 7578
Inscription: 24 Mar 2006, 17:12
Localisation: Var
Modèle(s) 309: SL - GTI
---
The glass of the spots is smooth. While the glass of the fog lights is ribbed.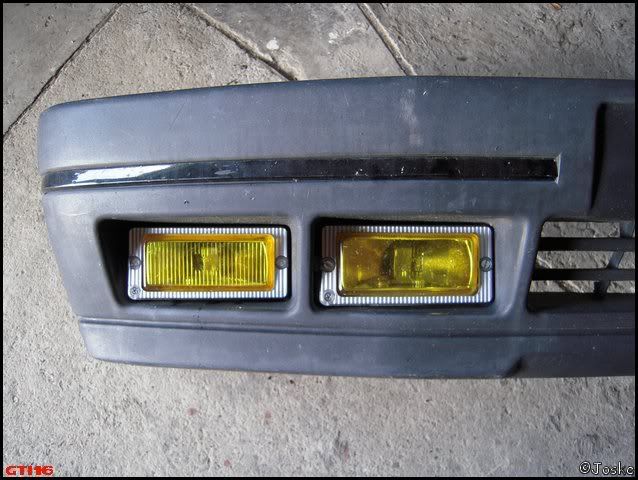 ..........................................Fog light...................................spotlight
Membre GE

Messages: 36
Inscription: 18 Sep 2009, 11:12
Localisation: Hoeselt, Flanders, Belgium
---
If you come to france for the international Meeting, we can bring some bumper lights to sell them for you

what about doing a "309 parts selling"?
RESP. SORTIES

Messages: 14795
Inscription: 07 Jan 2008, 22:11
Localisation: Toulouse
---
i think you guys should ask us for parts you can't find at your towns...Like this, we do our best to bring them to you and every one will be happy!!!
For easier transactions, i suggest paypal or cash to book the parts
ADHÉRENT

Messages: 4686
Inscription: 10 Déc 2008, 16:36
Localisation: Toulouse
Modèle(s) 309: GTI
---
---
Retourner vers General discussion
Qui est en ligne
Utilisateurs parcourant ce forum: Aucun utilisateur enregistré et 0 invités
Designed by A. L.